Dharamsala lies sleepily high on the snowy slopes of the Himalayas in
Himachal Pradesh
. Travel to Dharamsala to treat your eyes with the spectacular beauty of the snow-laden Himalayas in the Dhauladhar range. The lofty peaks appear white under the ice-cover round the year.
A travel to Dharamsala would take you to the quaint land of the monasteries and buddhist nuns and monks. Because of the residence of His Holiness Dalai Lama the land is considered sacred to the Tibetans. So the culture in Dharamsala has an exotic flavor with a blend of Tibetan and Indian. This also is a big draw for the global tourists who travel to Dharamsala.
Dharamshala or Dharamsala is a city in the Kangra district of Himachal Pradesh. As a pilgrimage destination for Buddhists, the lofty Himalayan ranges and valleys contains lots of age-old monasteries which makes it an excellent spiritual dwelling. McLeod Ganj, a town within Dharamshala is the home of the present Dalai Lama and Tenzin Gyatso. The town has an exotic culture that invites everyone to explore its wonders.
By Air
The nearest airport to Dharamshala is Gaggal airport in Kangra valley,
Himachal Pradesh
. The airport is around 17 km away from Dharamshala and connects domestic flights to Delhi. From Delhi travelers can connect to major cities in India and abroad.
By Rail
The nearest major railhead is in Pathankot, Punjab at a distance of 91 km. Train enthusiasts can continue their journey further on the Kangra Valley Railway to Kangra Mandir railway station, a journey that takes 6 hours and leaves you 24 km from Dharamshala. A lot of travelers choose to travel by bus or taxi from Pathankot.
By Road
Dharamshala has a good network of well connected roads that link Dharamshala with many cities and towns through the Inter State Bus Services. One can also hire private bus and taxi services to reach Dharamshala.
Distance to Dharamshala
From Kangra- 35 km
From Pathankot- 91 km
From Hoshiarpur- 141 km
From Mandi- 158 km
From Jalandhar- 200 km
Places to Visit in Dharamshala
In the Himalayan wilderness Dharamsala is a beautiful place. Breathtaking views of the snow-laden mountains, exotic culture, quaint old monasteries and teeming with Buddhist nuns and monks together form the tourist attractions in Dharamsala.
Dharamshala Cricket Stadium
Dharamshala Cricket Stadium (DCS), an internationally renowned stadium, is the home ground of Himachal Pradesh State cricket team.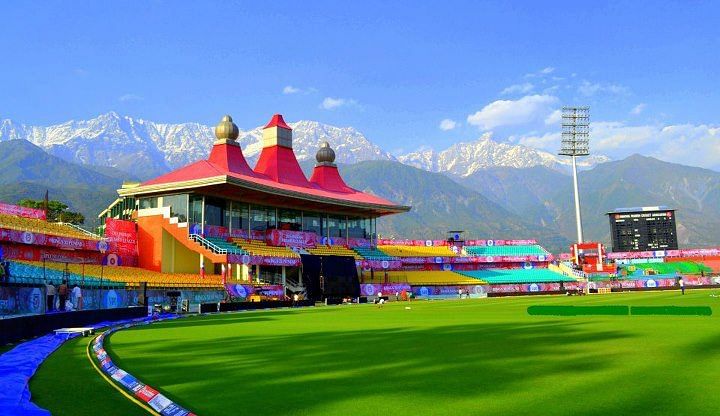 It is considered to be one of the most attractive cricket stadiums of India due to its natural backdrop. Few international and Ranji cricket... Read More »
Dal Lake

of Dharamshala
Dal Lake is surrounded by deep Deodhar forests and is situated approximately 11 km from Dharamshala.
This lake is an ideal base camp for trekkers coming from McLeodganj. During the month of September, an annual fair is organised on the banks of Dal Lake, where tourists take...
St. John Church in Dharamshala is also known as St. John Church in Wilderness.
It is an Anglican Church which is dedicated to Saint John. This church was constructed in the year 1852, situated at Forsyth Ganj.
It is built in Neo-Gothic architectural style and features Belgian... Read More »
Bhagsu Falls is a beautiful waterfall, situated in the small village of Bhagsu, behind the Bhagsunath Temple.
During monsoon, this waterfalls turns into a 30 ft cascade, alongside a mountain that features slate graffiti. The Bhagsu village is popular for organising... Read More »
Kangra Fort
Kangra Fort is situated alongside the banks of Banganga River, near Kangra town. It is easily accessible from Shimla-Mathura National Highway.
This fort is located at a distance of 3 km from the main town and is also known as Nagarkot. There is a museum at the entrance of the... Read More »
Chamunda Devi Temple
Chamunda Devi Temple is a popular old temple in Dharamshala, which is situated approximately 15 km from the main city.
This temple features the main deity of Goddess Durga, also known as Chamunda. It is believed that worshipping at this shrine can give ultimate salvation or... Read More »
Chinmaya Tapovan, Dharamshala
The Chinmaya Mission was started by Balakrishnan Menon, a young journalist who met spiritual masters like Swami Sivananda and from there began a search for meaning.
One of the greatest exponents of Vedanta the world has ever known, the Swami has set up several trusts, schools... Read More »
McLeod Ganj
Fondly referred as the little Lhasa, McLeod Ganj draws more fame from the residence of His Holiness Dalai Lama than anything else.
The little township with clusters of maonasteries and Buddha Statues is one of the biggest Tourist attractions in Dharamsala.
Who wants to return from a tour without buying souvenirs or gifts for friends and relatives ? If you are a discerning shopper, you can look forward to a great shopping in Dharamsala.
The popular items for shopping in Dharamsala are:
wooden carvings, silk and woven woolen scarves and Tibetan handicrafts.


Like all Himalayan regions, Dharamsala also has dense forests abundant in wood. Exquisite handicrafts fashioned out of wood, bamboo and cane would definitely arrest your attention. Check out the diverse artifacts and utilities while shopping inn Dharamsala.

Woven woolen garments available here are warm and comfortable. Sweaters, cardigans available in trendy designs and reasonable prices, should feature in your shopping list in Dharamsala.

The Tibetan community has a tradition of handicrafts, which are available in profusion. Look for the trinkets and knick-knacks, which serve well for personal use, gifts and interior decoration.

Jogibara Road is the main place for shopping in Dharamsala. You may also hang out at the street side stalls erected by the locals.
Eating Out in Dharamshala
There is no dearth of places for eating out in Dharamshala. You will find a few local restaurants in Dharamshala serving decent fare – it isn't cordon bleu but is tasty and more than palatable.

Tibetan food is unusual and very tasty and you might want to try this. In McLeodganj try McLlo an ecelectic little restaurant in Dharamshala serving Indian, Italian, South Indian and Israeli cuisine. There are many stalls selling hot ''momos'' - try them!


At Nick's Italian Kitchen take a break from Tibetan cuisine and try the quiches, pastas, and piazzas. Who knows you may even rub shoulders with celebrity visitors.
Hotels in Dharamshala
There are certain hotels that provide parking facility for the vehicles of the visitors within the premises. Also, there are several kinds of schemes offered by the hotels for the travellers to enjoy their stay at discounted tariff.
3 Star Hotels
Asia Health Resorts
Address : Strawberry Hills, Near Dal Lake
City : Dharamshala
State : Himachal Pradesh
Pin Code : 176216
Phone No. : 01892-220877, 220909, 220910
Fax No. : 01892-220107
Email ID : info@asiahealthresorts.com
Website : www.asiahealthresorts.com
Type : 3 Star
Rooms in Hotel : 25
Maximum Room Rate : INR 7500
Minimum Room Rate : INR 3500

Club Mahindra Kangra Valley
Address : Yol Road, Sheela Chowk Sidhpur
City : Dharamshala
State : Himachal Pradesh
Pin Code : 176057
Phone No. : 01892-229701/ 229702
Fax No. : 01892-229703
Email ID : fo.dsala@clubmahindra.com
Website : www.clubmahindra.com
Type : 3 Star
Rooms in Hotel : 23
Maximum Room Rate : INR 8000
Minimum Room Rate : INR 6500
Travel Map of Dharamshala